These sections do not appear in the printed version of the book due to space limitations. They provide additional details on the life and career of Red Star and the Crow people. -- The Author
Museum Collections and Exhibitions
Autry National Center/ Southwest Museum of the American Indian, Los Angeles, CA
Buffalo Bill Center of the West/Whitney Western Art Museum, Cody, WY
C. M. Russell Museum, Great Falls, MT
Colorado Springs Fine Arts Center, Colorado Springs, CO
Denver Art Museum, Denver, CO
Eiteljorg Museum of American Indians and Western Art, Indianapolis, IN
Heard Museum, Phoenix, AZ
Missoula Art Museum, Missoula, MT
Montana Historical Society & Museum, Helena, MT
Museum of Contemporary Native Arts, Institute of American Indian Arts, Santa Fe, NM
Museum of the Rockies, University of Montana, Bozeman, MT
National Museum of China, Beijing, China
Schingoethe Center for Native American Cultures, Aurora University, Aurora, IL
Smithsonian Institution/National Museum of the American Indian, Washington, DC
Yellowstone Fine Arts Center, Billings, MT
IAIA Traveling Group Exhibition, 1965
       Riverside Museum, Riverside, NY
       Center for the Arts of Indian America, Washington, DC
       Museum of New Mexico, Santa Fe, NM
       Philbrook Art Center, Tulsa, OK
       National Indian Arts Exhibition, Scottsdale, AZ
       Institute of Contemporary Art, Washington, DC
IAIA Traveling Group Exhibition, 1966
       Edinburgh Festival, Edinburgh, Scotland
       Berlin Festival, Berlin, Germany
       London Festival, London, England
       Ankara Festival, Ankara, Turkey
       Alaska Centennial, Anchorage, AK
All American Indian Days Arts and Crafts Exhibition, Sheridan, WY, 1966
IAIA Traveling Group Exhibition, 1967
Indian and Eskimo Arts Exhibition, Anchorage, AK
National Indian Arts Exhibition, Scottsdale, AZ
Center for the Arts of Indian America, Washington, DC
Woodstock Music and Art Fair, Woodstock, NY, 1969
San Francisco Art Institute,  Spring Show, San Francisco, CA, 1970
Museum of the Plains Indian, Browning, MT, October 3–November 12, 1971
       (first solo show; 20 works)
Utah State University Art Gallery, Logan, UT, 1973 (solo exhibition)
Wyoming Annual Art Show, Sheridan, WY, 1973
Southern Plains Indian Museum, Painted Tipis, Anadarko, OK, 1973 (includes collaborative painted and beaded tipi done with his mother)
Central Washington State College , Third Annual Contemporary Indian Art Exhibit, Ellensburg, WA, 1973
Cheyenne Indian Museum, Ashland, MT, 1974
Red Cloud Indian Art Show, Pine Ridge, SD, 1974
Carroll College Art Gallery, Helena, MT, 1974
Copper Village Museum and Art Center, Anaconda, MT, 1975
College of St. Theresa Art Gallery, Winona, MN, 1975
University of California, Davis, Davis, CA, 1975
Northern Arizona University , Flagstaff, AZ, 1976
University of North Dakota, Grand Forks, ND, 1976
Hockaday Center for the Arts, Kalispell, MT, 1976 (with Tom Hoffman)
Institute of American Indian Arts, Santa Fe, NM, 1977 (with Arthur and Martha Haungooah and Doug Hyde)
Tokyo, Japan, 77 West Coast Experience Tokyo, Japan, 1977 (group show of 21 artists, with catalog), 1977
Bank of California Show, San Francisco, CA, 1978 (with Earl Biss and Carol Thornton)
Oklahoma Museum of Art, 100 Years of Native American Painting, Oklahoma City, OK, 1978
Wheelwright Museum of the American Indian, Contemporary Indian Artists Show, Santa Fe, NM, 1978
Santa Fe Festival of the Arts, Santa Fe, NM, 1978
Fourth International Congress on Religion and Arts, San Antonio, TX, 1978
Espace Pierre Cardin, Paris, France, March 1979 (five-person show—Arthur and Martha Haungooah, Kevin Red Star, Doug Hyde, Earl Biss)
New Britain Museum of American Art, Graphics by Contemporary Native American & Western Artists, New Britain, CT, March 24–April 29, 1979
Native American Center for the Living Arts, Spirit of the Earth, Niagara Falls, NY 1980 (group show organized by the International Native
       American Council of Arts that subsequently travels to Havana, Cuba)
Denver Museum of Natural History, Denver, CO, 1980 (group show of western Native artists)
Summit Art Center, The Guardians, Summit, NJ, 1980
Native American Center for the Living Arts, American Indian Art in the 1980s, Niagara Falls, NY, 1981 (group show)
Missouri Men's Athletic Club, St. Louis, MO, 1981 (sendoff for Asian show)
Driscoll Gallery, University of Denver, Denver, CO, March 1981 (sendoff for Asian show)
Traveling Asian Exhibition, Opens in Hong Kong, September 1981; then to Beijing (first major Western art show in China)
Heard Museum, Visions from the Present: Contemporary Native American Art, Phoenix, AZ, September–October 1982
San Diego Museum of Man, Eye of My Mind, San Diego, CA, April 1984
Felicita Foundation for the Arts, Celebrate the Spirit: Contemporary Native American Art, Escondido, CA, October 21–November 30, 1985
Montclair Art Museum, Summer Rains/Winter Winds: Native American Paintings from Private Collections, Montclair, NJ, September 22-
Owensboro Museum of Fine Art, Art of the Native American, Owensboro, KY, 1986 (with Bill Prokopiof, Ben Quintana, Connie Red Star, Mike
Heard Museum, View From the Present: Contemporary Native American Art, Phoenix, AZ, April 1993–April 1994
Susquehanna Art Museum, Native American Artists: Reflections on the Past, Harrisburg, PA, September 11, 1994–January 31, 1995
Museum of the Rockies, Kevin Red Star: Recent & Retrospective Works, University of Montana, Bozeman, MT, April–October 1995 (solo show)
Autry Museum of Western Heritage, The American Indian and Cowboy Artists of the Autry, Los Angeles, CA, 1997
Yellowstone Art Museum, Billings, MT, Annual auctions, 1997, 1998, 1999
Denver Art Museum, Fall Antiquities and Contemporary Native American Art, Denver, CO, September 1998
Autry Museum of Western Heritage, Masters of the American West annual sale, Los Angeles, CA, 1998–present
Ramscale Studio Gallery, Kevin Red Star, New York, NY, October 1997
C. M. Russell Museum, Annual auction, Great Falls, MT, March 1999–present
C. M. Russell Museum, Kevin Red Star, Great Falls, MT, September 14–November 28, 1999
Carbon County Arts Guild and Depot Gallery, Red Lodge, MT, 2000 (solo show)
Museum of Nebraska Art, Spirit of the Great Plains, Kearney, NB, 2000
Holter Museum of Art, Kevin Red Star: Visual Portrayal, solo show, Helena, MT, June–August 2000
Institute of American Indian Arts, IAIA Rocks the '60s: The Painting Revolution, Santa Fe, NM, February 2–September 30, 2001
Museum of Nebraska Art, Spirit of the Great Plains 2, Kearney, NB, 2002
Mt. San Antonio College Gallery, Old Man Eagle: A Visual History of the Crow Nation, Walnut, CA, 2002 (solo show)
Nicolaysen Art Museum, Kevin Red Star: Four Directions, Casper, WY, November 8, 2003–March 14, 2004 (solo show with 45-plus works)
Yellowstone Art Museum, Running Rabbit: The Work of Kevin Red Star, Billings, MT, March 24–July 17, 2005 (solo retrospective with catalog)
Eiteljorg Museum of American Indians and Western Art, Indianapolis, IN, 2005 (group show inaugurating the Hurt and Harvey Galleries)
Buffalo Bill Center of the West, Annual art show and sale, Cody, WY, August 2009–present
Missoula Art Museum, Missoula, MT, April 2–August 27, 2010 (includes museum magazine article)
Holter Museum of Art, From the Spirit: Paintings by Kevin Red Star, Helena, MT, January–March 2010
Ethnology Museum, Native American Modernism: Art From North America, Berlin, Germany, March–October 2012
Gilcrease Museum, Collector's Reserve: American Art Exhibition & Sale, Tulsa, OK, November 2012 (wins President Choice Williams Award for
Utah Museum of Fine Arts, Bierstadt to Warhol: American Indians in the West, University of Utah, Salt Lake City, UT, April–August 2013
Owensboro Museum of Fine Art, Art of the Native American: Kevin Red Star and His Friends, Owensboro, KY, November 2013–February 2014
Art in Embassies, U.S. Department of State (multiple works, including Abstract Tipis and Blue Dress, have toured the world almost continuously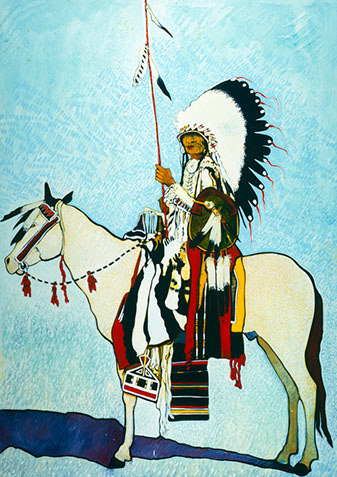 Over the decades, Kevin Red Star's work has come to the attention of many major art institutions and museums. They have watched his career and work unfold, the changes in his styles, themes and materials. They are thinking about his place in American art and Native art. And, over the years, the artist has also drawn a loyal cadre of collectors to his work. They also have studied his evolution and have become astute observers of his winding path.
Mindy Besaw,
John S. Bugas Curator at the Whitney Western Art Museum (a division of the Buffalo Bill Center of the West in Cody, Wyoming) notes, "One of the strengths of his work is the combination of his personal experiences and his  experience within his tribe, and how that blends with modern art styles and Native American art of the past, and becomes something else. Graphically the images are recognizably his, but also very modern. Then if you dig a little past the immediate surface recognition, subject and beautiful design, it becomes something more, a search for meaning. It has a dual nature."
Within a national and international art history context, his inclusion in the first class at the Institute of American Indian Arts looms large for her. "The establishment of that school was so important and having Kevin's work as a model of what that school was intended to do is also important." She goes on to say, "But I think the context of his place in art is broader than IAIA, and is broader than American art. It's really an artistic art lineage that works its way back into Crow culture itself."
At the Whitney, they have KRS's painting "Crow Indian Parade Rider" mounted on permanent display close to the 1970 Fritz Scholder work "Indian With Tomahawk." Notes Besaw, "I see lots of connections there, including Scholder's use of Indian stereotypes done in a contemporary art style. Kevin's work is more personalized but the two artists bridge in some regards."
Next to these two works is a turn of the 20th century bronze by non-Native artist Alexander Phimister Proctor titled "Indian Warrior." It is, she explains, "more about the symbols of Indians than the actual people behind them—the war bonnet, moccasins, the classic body in very little clothing, the spear and a subject mounted on horseback. On some level, Fritz's and Kevin's work plays on that artistic tradition." Their work, she suggest, "wouldn't be recognizable in a universal way unless all those earlier Euro-American artists hadn't appropriated those objects and forms."
And she concludes that Red Star's work is quintessentially art of the American West. "Art about the West must be representational in some regard. If it's about the West, how are you going to know it is if it's completely abstract?"
Ann Kincheloe
relates, "The reason I met Kevin was dirty socks. In 1996 I came to visit my son, Steve, who had recently moved to Red Lodge, Montana, and found out he had not done any laundry since he arrived, so I went to the laundromat. I remember complaining that the dryer was not very interesting company, and I didn't have a book, so my son Steve suggested I visit the gallery across the street. I walked into the Kevin Red Star gallery and I could hardly move. I was absolutely mesmerized. I had never seen art like this! I kept going back every day, because I just couldn't absorb it. Merida finally came over one day and said, 'Is there anything I can do to help you?" So I got to know her. One day, I asked, 'Does he ever do anything little?' So, that's how I ended up with a pen and ink sketch he did in Moscow."
That was the first of many purchases by Kincheloe over the years, including some paintings as large as six feet by eight feet. One work, featuring a semi-abstract repeating pattern of horses, she placed in her a grandson's bedroom for a few years. "One day I came to get it. My nine year-old grandson said to me, 'Oh no mamere! I won't be able to do my homework if you take my horses from me!' So it is still there on his wall. I have another, quite large, called "Yellow Foot and his Raiders." I get up every morning and say, 'Well hello, Yellow Foot. How are you today?'"
Kincheloe finds his work "powerful. I think he is doing some of his very best work right now. He is true to his heritage. That is important because we need to be reminded of the Native American. I had never thought much about it. My son is a history buff but until I got to know Kevin's work it had not dawned on me that Indians were still present in our society. Of course, if you know him, you see him in the work. And, he is just one of the nicest people you will ever meet. I saw him referred to as a 'living legend,' but I know he does not think of himself in that way. As for his painting, I don't think he can help himself. It's from the spirit—he'll say the Creator gave him talent, which he developed. It's like he has to do it. It's as if he is carrying on the heritage of his people. He loves what he does. I see him as a courageous man, who has risen above conditions."
James Nottage
, Vice-President and Chief Curatorial Officer of the Eiteljorg Museum of American Indians and Western Art in Indianapolis, the major institution of its kind in the Midwest, grew up in Wyoming, and has been aware of Red Star since the early to mid-1970s.  The museum has shown his work in at least five exhibitions from 1989 to 2011. Two paintings, "Dressed for the Parade" and "Elk River Woman" were included in the inaugural opening of the Hurt and Harvey galleries in 2005. In 2003 he served as the featured artist of their annual Indian Market and Festival.
"He is one of the wonderful mainstays in our world of art," says Nottage. "I really enjoy his rich imagination, which I think is particularly true with his tipi series. Many are a little more abstract, with different angles and compositions and color schemes. There is a wonderful variety but you can also always spot a Red Star painting. There is a consistency in quality. I describe his use of color as 'vibrant,' which runs such a close parallel to the Crow themselves. His work reveals them as a people of the past, yet also and more importantly perhaps, as people of the present—not frozen in time but alive and present."
Montanan
Zack Belcher
has known Red Star for more than 15 years. He owns a handful of paintings, lots of artist proofs and a rare Red Star ceramic mug. He says about his friend's art, "It is totally and completely original, somewhere between traditional and modernistic. Most Crows do not have the ability to communicate on a deep level with the white culture. It's not that they are ugly in their relations, but simply that they have trouble with that. Kevin doesn't. Kevin has an unusual ability to stand in any setting and talk about his work. He knows how to present himself and his art. He is his own best salesman. Santa Fe, I think, helped a great deal in that regard but it also seems to be some inborn ability. The family itself is very unusual, beginning with Amy. And being from a matriarchal society, he has great respect for women."
He tells a story. "He called once and said, 'Can we go deer hunting?' I said yes, and he said, "How many can we shoot?' I said, 'Well it's state land, so just one.' He said, 'Well then, I'll just take one bullet.' But when we found four bucks in a coulee, we stopped the truck and got out and both emptied our rifles at them. None went down so we split up to follow their trails. I eventually got one and got it back to the truck and cleaned it, when I heard shooting off a ways. I drive over and there he is on a hilltop with a deer. He dragged it down off the hill. I said, 'Indian,' I always called him that, 'why didn't you clean it up there? Because you want me to dress it?' He just laughed and said, 'If you want to.' After that I called him 'One Shot.' He later did a self-portrait he called 'One Shot.' He is a dear friend. The fact he is an artist is just a bonus."
David Turch
is a prominent lobbyist in Washington, D.C. He began collecting Red Star works about 20 years ago. "The first work my wife Meridel and I acquired was "Winter Camp 2," a relatively small two-foot by two-foot oil. I don't pretend to be a seasoned critic but I could see Kevin is an accomplished artist and that he knew what he was doing. And message matters to me. I'm from Minnesota and my college roommate was an Indian. He opened my eye to a whole new culture. So Kevin's subject mattered to me. With all my purchases, I always look first and if I'm really interested, I'll come back the next day to look again. If it has that same impact, I take it. The one exception ever was a Red Star painting called "Night Riders on Rock Creek." It is just magical, and was instant love."
Their relationship now goes beyond mere financial transactions. Red Star stays with the family when he is in the Washington area, and Turch notes, "We've been through some of the same trials and tribulations. I come to Montana five or six times a year, and I always visit him. I admire a great deal his interest in people close to him. He follows them and reaches out to people who need emotional support. He's become a good friend."
Emma Hansen
(Pawnee Nation of Oklahoma), Senior Curator of the Plains Indian Museum (a division of the Buffalo Bill Center for the West in Cody, Wyoming), has known Red Star's work since he and his mother collaborated on a tipi project displayed in Anadarko, Oklahoma in 1973. "One is struck immediately by his strong colors and compositions, but as an anthropologist, I am most taken by his faithful recording of his culture and people. I've come to know quite a few Crow people since coming here more than 20 years ago, and when I look at his portraits, I see them and the lands they inhabit.
"I have also been impressed with his availability and accessibility. He has attended numerous events here, including speaking at a seminar we had on contemporary Plains Indian art, and once we took a bunch of staff to see his studio. I didn't expect him to be there but he spent several hours with us, talking about his process and life. We are thrilled to have his art on permanent display here in the Plains Indian Museum."
Colin Mathews
, founder and co-director of Creighton Block Gallery in Big Sky, Montana, grew up in Montana but studied art history at Stanford University and in Europe for a year. In 2009, he arranged a two-person show at his gallery of acclaimed painter and lithographer Russell Chatham and Red Star, and continues to represent Red Star today. He notes, "I have admired Kevin's work for quite a few years. One thing that impresses me is his ability to shift styles and produce what I see as completely different bodies of work. His earlier work shows great freedom of his brush strokes, and a semi-expressionist and abstract form. Today's work, in bright vivid colors, records the iconography of his people historically and tells stories in a different way.
"I asked Kevin once about the big hands of some figures in his earlier works and he explained to me the culture of the coups among his people--the taking of an enemy's weapon with your own hands, or their horse, without killing them. The hands reveal the man, he said.
I'm also taken by his bravery. He once told me, 'I had to invent what I was going to do because in all our history there had never been such a thing among my people as a fulltime, professional painter.' He had no cultural model, what so ever, to follow. I have the highest regard for Kevin's artist abilities and his willingness to invent new forms of expression for his people."
But how does Indian art manage to break through the mainstream media bias and institutional barriers that relegate Native art to ethnographic or regional status?  "The divide can be bridged when the guardians of criticism stop being snobs and get real about art beyond the hot trend. Kevin is an important American artist; without him and a handful of other brave, capable Native painters many things would be lacking today. They transformed American Indian art from curios being sold to tourists getting off the trains in Santa Fe or Glacier, Montana to being a powerful force in Western art and American art in general made by both Natives and non-Natives."
Suzanne Deats
, an arts writer who worked as an artist alongside Red Star in Santa Fe in 1975, notes, "Kevin has been the most successful of all the modern Indian artists in preserving his tribal traditions while being a completely modern artist. Some have gone away from the subject and stylized it more, but Kevin hasn't. He just paints from a very very modern aesthetic. I don't think anyone else has gone to that high level beyond the purely decorative. Although his work is absolutely about his tribal traditions, he is not just mindlessly imitating it. He is making an artist's statement in every painting he does. That's why they are so strong. We are all born how we are and Kevin is one of those people who was born strong and kind, and with an incredibly clear vision as an artist. He never waffled around trying to find his way. He just has to paint."
In
Running Rabbit: The Work of Kevin Red Star
, produced for the Yellowstone Art Museum in 2005, Deats wrote, "His overall subject, the ancestral Crow tribe, remains constant, affording him apparently unlimited vocabulary of images, from highly abstract shield or tipi compositions to more representational portraits of historic figures….Every detail in a Red Star painting is meaningful. Tipis are lined up loosely, rather than with military precision, indicating the orderly yet comfortable conduct of daily tribal life….His warriors …are laden with symbolic objects and designs meant to confer protection and success on their mission….Something as small as a feather speaks volumes in the way it is notched, decorated, worn."
Jane Judge
first met Red Star in 1992 or 1993, when she was visiting Santa Fe. While she had been collecting various American artists for years, she did not own any by an Indian and she was intrigued by a sign on a gallery door announcing "Crow Indian artist Kevin Red Star." She ended up buying a painting of a man in a traditional headpiece and shirt standing in profile with a fan in his hand. Since then she has acquired numerous works in various mediums, and is particularly drawn to his shield series and his portraits.
"My great-great grandfather was Crow, so that's why I may be drawn to the work. My sister and I share a great attachment to that part of our ancestry. And much of Kevin's work is about traditions and his heritage. I just love his shields, which depict the age and mystery of these objects. I'd call him one of the finest contemporary artists of any field in America today, and really on top of the Native artists. He's been a mentor to younger artists, revealing the generosity of his spirit. He is giving this country a heritage that may be lost after he stops painting, because no one else is doing what he is doing for the Crow people."
Bonnie Reilly
of Montana bought her first work in the early 1990s. She notes, "I like his bright colors, and really enjoy his teepees, which I have several of. Everyone is different, like Monet's haystacks. When my first grandchild was born, he painted a rocking horse for her that will always be a family treasure. My favorite work I own is "Red Man," which he worked and worked on. It's a fabulous painting."
And how does she explain Red Star's success as Crow artist? "I think it is because he is so much more open to new experiences than many other men on the reservation. Maybe it was because he went off to that art school in Santa Fe. I don't know. Maybe that helped him gain confidence and the ability to move around in different circles. I know he went through some bad periods, and struggled with some of the same problems many people have, and the death of his daughter. That was a terrible blow. But he withstood it.
"Kevin has become a friend of ours. His older brother Wallace was an acquaintance of my parents, and Wallace's daughter Wendy rode horses my father raised—Arabians. I met Kevin's mother once, and knew his daughters and his ex-wives. We are looking forward to what comes next for him."
Few people are closer to Red Star these days than
Alex Betts
, who owns and operates Windsor Betts Gallery in Santa Fe. She met the artist around 1977, and recalls her first impression of his work. "I thought it was really honest art. Here is a guy chronicling his people when they were still warriors and hunters but doing it from his own vision and from stories told to him by elders. It was just so unique and I was enthralled by his ability to articulate these stories in paint. And, I was impressed with his humbleness about his talent, and what a gentle soul he has.
"He is absolutely courageous as well. He stayed true to his artistic calling and was able to survive with it, where so many of his classmates from IAIA didn't. He stood firm in his vision and stayed on the job, even when times were tough."
Betts' business, which focuses on re-sale of older works by significant regional artists, has carried Red Star's work since the late 70s, but also began showing his new works about three years ago. Around 2007, their business relationship turned into a personal one as well, and Betts gets to see other aspects of his character many people are not privy to.  She says he loves going to movies, especially comedies, and that he loves to go shopping with her. "He has a beautiful, sensitive, feminine side to him, which might be a reflection of the fact he has had so many strong women figures in his life, from his mother to his daughters. He has a certain kind of playfulness about him that makes him seem younger, and he's also very generous in spirit and encouragement."
She says he is painting these days with great assurance and feels his current work is very strong. "But there are so many people and institutions now interested in him, asking him to sit on panels, to show up for events and such, that they are pulling him away from his work. He has to balance that with his creative schedule, and not get bogged down in the details." And she points out, "No one can be brilliant all the time. He has slower periods, when he steeps himself in books. He is an avid reader. He seems to get a lot of peace from reading and from the peace comes inspiration. He also loves to travel—it stimulates his creativity."
She is also an astute observer of his painting process. "It's remarkable, really. It is very direct, allegro style, quick. And he uses so many layers. He will start a painting and it will have all these colors and then I'll see it in a few hours and he's got this whole other palette going. It's amazing how it all comes together."
1943, Oct. 9:  Born Lodge Grass, MT, on the Crow Reservation, the third of nine children
1962-1965:  Attends Institute of American Indian Arts, Santa Fe, NM, obtaining high school
1965 fall-1969:  Attends San Francisco Art Institute
1969 Dec.:  Cuts hand tendons on broken glass and returns to Montana, plays in bands,
                    attends Montana State University and Eastern Montana University, teaches
                    art at Lodge Grass Elementary
1971:  First one-man museum exhibition at Museum of the Plains Indian in Browning, Montana
1972:  Coyote, his nephew he later adopts, is born
1975:  First solo show at Squash Blossom Gallery, Highland Park, IL
1975:  Returns to live in Santa Fe, works at West Side Studios
1976:  Selected as first Artist in Residence at the Institute of American Indian Arts
1978:  Daughter Merida born
1979:  Shows at Espace Pierre Cardin in Paris, France
1980:  Two-man show (with Doug Hyde), Galeria Capistrano, CA
1980:  Daughter Jennifer White Man Runs Him born
1980:  Daughter Sunny Sky born
1983:  Solo show at Galerie Amak, Berlin, Germany
1984 Summer-spring 1985:  Lives in Solano Beach, CA
1985 Spring-winter 1986:  Lives in Westchester County, NY
1987:  Resumes majority residence in Montana, in Red Lodge & Roberts
1993: Merida Gallery opens in Red Lodge, MT
1995: Completes a residency with the Russian Academy of Art, Moscow
1995:  Kevin Red Star Gallery opens in Red Lodge
1998:  Produces custom horse and buffalo blanket design for Pendleton Mills and the American Indian College Fund
1999, Nov.:  Guest of Honor at the International Indian Film Festival, San Francisco, and premier of documentary about him
2002:  Completes full-size painted horse statue project, "The Horse, of Course," Billings, MT
2005:  Completes painted bighorn sheep project as fundraiser for Billings Depot, MT
2007:  Creates full-scale hand-painted Crow tipi for auction to benefit the Carbon County Historical Society & Museum, MT
2008, Aug.:  First of four annual one-man shows at Legends Santa Fe, Santa Fe, NM
2008:  Daughter Merida passes
2010, July-Aug.:  Two-man sale, with Russell Chatham, at Creighton Block Gallery, Virginia City, MT
2010:  Television documentary series episode of
From the Spirit
released on DVD
2012:  One of 18 living Native artists featured in the book
Contemporary Native American Artists
2013, Aug.:  Book
Kevin Red Star: Crow Indian Artist
is released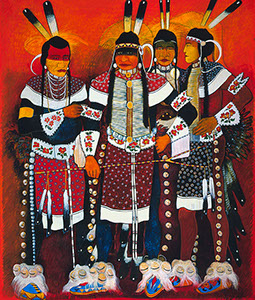 KEVIN RED STAR PERSONAL BIBLIOGRAPHY
Articles/Illustrations in Books & Magazines
"Pop & Op Seep into Indians' Artistry,"
Washington Post
, April 25, 1965 (by Elizabeth Stevens, with Red Star's "Crow Breastplate" image)
Cover image of
Two Leggings: The Making of a Crow Warrior
, by Peter Nabokov (University of Nebraska Press, 1967)
Contemporary Indian Artists of Montana
, Wyoming, Idaho, by Indian Arts & Crafts Board, U.S. Dept. of Interior, 1972
Cover art,
Parading Through History: The Making of the Crow Nation in America 1805-1935
, by Frederick Hoxie (Cambridge University Press, 1997)
Cover art,
The Crow Indians,
by Robert Lowie (University of Nebraska Press, 1935; revised edition 2004 by Bison Book/University of Nebraska Press)
Painted Tipis by Contemporary Indians
(booklet includes painting by Red Star of a tipi with entrance flaps painted by Red Star and beaded by his mother); by Myles and Rosemary Ellison, Indian Arts & Crafts Board, U.S. Dept. of the Interior, 1973
"Kevin Red Star: Artist,"
Santa Fean
magazine, Aug. 1976 (no byline)
"Visual Portrayals of Myths and Legends,"
Southwest Art
, Feb. 1976 (by Scott E. Dial)
"Adopting, Adapting & Rejecting: New Art of the American Indian,"
Southwest Art
(by Stephen Parks), April 1980
"As the Crow Paints,"
New York Post
, Dec. 11, 1980
Brief biography and 1 painting ("Crow Fair, 1978") in book
The Sweetgrass Lives On: 50 Contemporary North American Indian Artists
, by Jamake Highwater (Lippincott & Crowell, 1980)
"Etchings: Contemporary Definitions of an Ancient Technique,"
Four Winds Magazine
, Winter/Spring 1981
"Arts of the West: Indian Draws on his Heritage,"
Chicago Tribune
, April 30, 1981 (by Charles Leroux, with Red Star's "Crow Scout" art)
"Kevin Red Star: Premier Indian Artist,"
The Exchange: A Journal of Native-American Philanthropic News
, Winter 1982-83 (by Ramona Gonyea)
"Indian Imagery: A Torrent of Creativity Unleashed,"
Santa Fean
magazine, Aug. 1989 (by Daniel Gibson)
"The Eiteljorg Museum,"
American Indian Art Magazine
, spring 1990
"Kevin Red Star,"
Southwest Art
, July 1990 (by Jo-Ann Swanson)
"The New IAIA Museum,"
Santa Fean
magazine, June, 1992
Cover art,
Myths and Traditions of the Crow Indians
, by Robert Lowie (Bison Book/University of Nebraska Press, 1993)
"The Long Look Back,"
Focus Santa Fe
, April/May 1998 (by Jo Ann Baldinger)
"Kevin Red Star: Alchemist of Past & Future,"
Native Peoples
magazine,
Aug. 2000 (by Daniel Gibson)
"Rise of the Robe: The Story of American Indian Trade Blankets,"
Native Peoples
magazine
, Nov/Dec 2000 (by Suzette Brewer)
 "IAIA Rocks the 60s,"
American Indian Art Magazine
, Winter 2000 (by Joanna Bigfeather)
"IAIA Rocks the New Millennium,"
Native Peoples
magazine, July/Aug 2001 (by Andrea Handley & Michael Tsosie)
"Artist and Historian: Kevin Red Star,"
Southwest Art
, Feb. 2001 (by Norman Kolpas)
"Collection of Howard & Joy Berlin,"
Native Peoples
magazine, May/June 2001 (by TR Tallchief)
"Living Art, Giving Art: IAIA Alumni Share their Gifts,"
Tribal College Journal
, fall 2001 (by Gussie Fauntleroy)
NDN Art: Contemporary Native American Art
, by Charleen Touchette & Suzanne Deats, Fresco Fine Arts Publications, 2003 (includes five Red Star images)
"The Institute of American Indian Arts,"
Focus Santa Fe
, March 2003 (by Gussie Fauntleroy)
Cover art,
Indian Gaming
magazine, Nov. 2003 ("Gathering of the Crow Chiefs")
Cover art,
The Way of the Warrior: Stories of the Crow People
, by Phenocia Bauerle, Henry Old Coyote & Barney Old Coyote, Jr., University of Nebraska Press, 2004 ("Summer Evening Lodges")
Cover art,
Indian Gaming
magazine, April 2004 ("Big Thunder")
Cover art,
Indian Gaming
magazine, Dec. 2004  ("First Snow Fall on Rock Creek Valley")
Cover art,
Indian Gaming
magazine, March 2005  ("Crow Woman on Parade")
"Kevin Red Star: Cultural Inspiration,"
Big Sky Journal
, March, 2006 (by Michael Corriel; cover image of "Buffalo Medicine Crane")
Cover art,
Indian Gaming Buyers Guide & Directory
, 2006  ("Rain in the Face")
Cover art,
Indian Gaming
magazine, Jan. 2007 ("Southern Traditional Pow-Wow Dancer")
Cover art
Indian Gaming
magazine, June 2007 ("Crow Chiefs at the Bitterroot")
"Kevin Red Star,"
Montana Arts & Culture Magazine
, Aug/Sept. 2007 (by Virginia Bryan)
"Keeping the Spirit Alive,"
Montana Magazine
, Jan/Feb 2008 (by Virginia Bryan)
Cover art,
Indian Gaming
magazine, March 2008 ("Little Sweet Grass")
Cover art,
Indian Gaming
magazine, Oct. 2008 ("The Hunting Party")
Cover art,
Indian Gaming Buyers Guide & Directory
, 2008 ("Peace Shield")
Cover art, annual report
Harvard University's State of the Native Nations
, 2008 ("Summer Evening Teepee")
"Decoding Tradition,"
Southwest Art
, Aug. 2009 (by Rosemary Carstens)
Missoula Art Museum magazine article, 2010
Contemporary Native American Artists
, by Suzanne Deats and Kitty Leaken, Gibbs Smith Publishing, 2012 (11-page section)
Native American Modernism: Art From North America
, by Peter Bolz & Viola Konig, Michael Imhof Verlag Publishing, 2012
(including opening image)
"Kevin Red Star: Always Apsaalooke,"
Magic City Magazine
(Billings, MT), May 2013 (by Virginia Bryan)
"Kevin Red Star: Native Artist, Ambassador & Historian,"
Big Sky Weekly
(Big Sky, MT), May 3, 2013 (by Maria Wylie)
BIBLIOGRAPHY OF WORKS CITED IN THIS BOOK
Celebrating Difference: Fifty Years of Contemporary Native Art at IAIA
, 1962-2012, compiled and edited by Ryan S. Flahive, Sunstone Press, Santa Fe, NM; 2012
James McGrath: In a Class by Himself
, by Jonah Raskin, McCAA Books, Santa Rosa, CA; 2012
Parading Through History: The Making of the Crow Nation in America 1805-1935
, by Frederick E. Hoxie, Cambridge University Press; 1995
Pretty Shield: Medicine Woman of the Crow
, by Frank B. Linderman, University of Nebraska Press, Lincoln, NB; 1932, re-issued 1972 by Bison Book
The Adventures of Captain Bonneville
, digested from his journals by Washington Irving, first edition 1850 by G.P. Putnam; reprinted by National Geographic Society, Washington, DC; 2003
The Crow Indians
, by Robert H. Lowie, Holt, Rinehart and Winston, New York, NY; 1935, re-issued 1956
The Image Taker: The Selected Stories and Photographs of Edward S. Curtis
, edited by Gerald Hausman and Bob Kapoun, World Wisdom, Bloomington, IN; 2009
The World of the Crow Indians: As Driftwood Lodges
, by Rodney Frey, University of Oklahoma Press, Norman, OK; 1987
They call themselves Apsaalooke, Absaroka or Apsaruke—spelled in many variations--which means "children of the long-beaked bird" in the language of their closest related tribe, the Hidatsa. The name is said by some to refer to the raven—a proud, vocal and powerful year-round resident of Montana and other Western locales. However, when asked by early explorers what these people called themselves, the translation was botched, resulting in the tribe's members being called Crow.
While the Crow's exact evolution and movements in prehistory are obscure, it is believed that they can be traced back to the Winnipeg country of southeastern Manitoba, Canada. It is widely accepted that they are closely related to the Hidatsa people of the Missouri Valley, and that they split off from this once powerful tribe at least 500 years ago, moving farther west to occupy the valleys and mountain ranges along the east face of the Continental Divide and the central Rocky Mountain chain in today's Montana and northern Wyoming.
Throughout much of their prehistory and through the 1800s, the Crow existed largely as a dispersed populace of hunters and gatherers, frequently on the move following the immense herds of buffalo. Summers found them in the mountains gathering certain foods and hunting, while in winter they set up camp in protected forests bordering rivers in the lowlands. They were divided into at least two major groups or bands: the River Crow that lived predominantly north of the Yellowstone Valley, and the Mountain Crow who frequented the Yellowstone and its tributaries leading into alpine lands. Some anthropologists also recognize a sub-group of the Mountain Crow, the Kicked in their Bellies, who resided primarily along the Shoshone River southwest of the Bighorn Mountains. Though they spoke a common language, they had no centralized leadership and only infrequently joined forces. At their peak in the late 1700s, the Crow population numbered about 16,000 (if you calculate an average of eight people per teepee and 2,000 teepees--per an oral statement recorded by the French trader Francois Antoine Larocque when he traveled with the Crow in 1805). By the early 1800s, following several rounds of epidemics (probably smallpox—another gift of the white man to the red man) that first hit their relatives to the east, the Hidatsa and the Mandan, the Crow population had plummeted to some 2,400 people.
Though their non-delineated borders expanded and shrank from decade to decade, in rough terms their lands once encompassed some 38 million acres, running from the Musselshell River and the Crazy Mountains in the northwest to the Black Hills in today's South Dakota on the east, to the North Platte river on the south and on the west by the mighty Wind River mountains and the Absaroka range, which border today's Yellowstone National Park. Central to their territory was Cloud Peak, located in the magnificent Bighorn Mountains, and their sub-range, the Pryor Mountains, and the Beartooth Range, which includes Montana's highest summit, Granite Peak. Winding through this stunning landscape are the storied rivers of the West, including the Bighorn, Yellowstone, Powder and Shoshone, some carving immense canyons as they cut out of the mountains and onto the plains.
Around 1830, the Crow chief Arapooish, or Sore Belly, stated to Robert Campbell of the Rocky Mountain Fur Company, "The Crow Country is a good country. The Great Spirit has put it exactly in the right place; while you are in it you fare well; whenever you go out of it, whichever way you travel, you fare worse….It has snowy mountains and sunny plains; all kinds of climates and good things for every season. When the summer heats scorches the prairies, you can draw up under the mountains where the air is sweet and cool, the grass fresh, and the bright streams come tumbling out of the snow banks. There you can hunt the elk, the deer and the antelope… and will find plenty of white bears and mountain sheep….Everything good is to be found there. There is no other country like the Crow country."
This opinion is reinforced by modern science, which has found that the Beartooth Range, for instance, has the highest diversity of plants (some 400) of any alpine environment in North America, and its animal species include grizzly bear, black bear, elk, mountain goat, bighorn sheep, wolverine, moose, deer, mountain lion, lynx and wolf.
In July 1806, William Clark, who had temporarily split off from his partner Meriwether Lewis during the return leg of their epic exploratory journey to the Pacific Coast from St. Louis, floated down the Yellowstone through Crow country. He wrote of the "incredible" number of elk, antelope and wolves they saw, and stated the buffalo herds were "immense."
This wealth of resources did not go unnoticed by the Crow's neighboring tribes, which led over the centuries to armed conflicts, deep animosities and the rise, eventually, of a highly developed and ritualized warrior culture among these tribes. As Frederick Hoxie, in his book Parading Through History: The Making of the Crow Nation in America 1805-1935, states, "Hunters like the Crow could only be successful by being flexible, mobile and opportunistic. They could not rely upon written laws or a fixed order of priests or generals because their situation was both precarious and unprecedented. Groups like the Crow therefore valued military leaders whose bravery was unquestioned and whose exploits could stir and mobilize community support. Flamboyant, even reckless young men embodied the community's … dreams."
Chief among their enemies were the Sioux, or Lakota, found to their east and south. A very large tribe that significantly outnumbered the Crow, the Lakota were being pushed west by white settlement in Minnesota and the Dakotas, and hoped to expand their range into lands occupied by the Crow. The resulting low-level war simmered for centuries. In 1822 or 1823, a party of some 1,000 Lakota warriors surprised a Crow village near the Yellowstone and destroyed several hundred lodges, killing half of its population. It was just one of many battles that occurred between these foes.
To the southeast was another long-term foe, the Cheyenne. In the 1860s, during the Red Cloud War, which was led by the Lakotas and Cheyenne allies against U.S. forces in the Montana/Dakota border area, U.S. Army Col. Henry Carrington asked a group of Cheyenne why they claimed land that belonged to the Crow. He was told, "We stole the hunting grounds of the Crows because they were the best."
To the northwest were the Blackfoot, another larger tribe noted for its fierce warriors. Crow and Blackfoot skirmishes and ambushes over the  centuries were a constant source of anxiety and ill-will for both tribes.
In the wonderful book Pretty Shield, by Frank Linderman, the title character informs him, "The Lacota, Cheyenne and Arapaho often came to bother us. Many times they came together, so they greatly outnumbered us. Our men were constantly fighting. They had to fight. Ahh, how our men did fight to hold our country against our enemies; and there were so many enemies of the Crows."
The Crow are believed to have first encountered non-Indians, who they called "baaschiile" (person with yellow eyes), in 1743 when a party came across two French Canadian explorers, the La Verendrye brothers, who described the Crow as "beaux hommes" (handsome men).
In 1832, the American artist George Catlin came upon a group of visiting Crow in a Missouri Valley village. He reported the Crow were "as handsome and well-formed set of men as can be seen in any part of the world. There is a sort of ease and grace added to their dignity of manners, which gives them the air of a gentleman at once….Most of them were over six feet high, and many have cultivated their hair to an almost incredible length, that it sweeps the ground as they walk, … giving exceeding grace and beauty to their movements."
Prince Maximillian of Wied-Neuwied in 1833, during his extraordinary journey up the Missouri River, found a Crow party of some 70 tipis led by Rotten Belly visiting a Mandan village. He wrote, "Fine figures of men, picturesquely long-haired, the Indian guests, spurless, but cracking their elk-horn quirts, rode to and fro on mounts gaily bedecked with red cloths and mountain lion skins. Their camp was crammed with horses, kept close at hand for fear of hostile marauders," he went on. He admired the "haughty bearing of the Crow, the women's porcupine quill embroidery, the men's bow of elk or mountain sheep horn, some of them covered in the skin of a rattlesnake."
In the authoritative book
The Crow Indians
, first released in 1935, by Robert E. Lowie, he notes, "In Rotten-belly's lodge a small fire was burning, surrounded by men of consequence, all of them stripped to their breechclouts. Himself in mourning, the chief was wearing his ugliest clothes, and his close-cropped pate was plastered with clay. He sat opposite the entrance—in the place of honor—and the Prince was made to sit beside him on buffalo skins. Lighting a long, flat-stemmed pipe of Dakota pattern, Rotten-belly held it for each of the guests while they took a few wiffs."
In 1830, Belgian priest Father Pierre-Jean DeSmet, who crisscrossed the region on his journeys to the Flatheads, Coeur d'Alene and other tribes of Idaho and the Plateau region, noted in his journal, "The Crow are considered to be the most indefatigable marauders of the Plains. I rode with this camp for two days and they had plenty of everything."
Transformative Arrival of the Horse
One of the major evolutionary events for the Crow, and for Plains Indians as a whole, was the acquisition of the horse. The arrival of the horse allowed Indians to more successfully pursue the buffalo, the key protein source in their diet, and increase their trading activities, resulting in a significant improvement in quality of life. But before this development tribal territories were naturally limited in scope, as were opportunities to expand one's range and wage war. Thus the arrival of the horse led over time to heightened competition for land and resources, and an increased emphasis among Plains tribes on military prowess and orientation. The Crow are believed to have acquired the horse through trade with the Shoshone as early as 1730.
The Crow were "very fond" of their horses, noted the French trader Francois Antoine Larocque in 1805. "Everybody rides, men, women and children. The females ride astride, as men do. A child that is too young to keep his saddle is tied to it. He gallops or trots the whole day if the occasion requires."
The horse greatly increased the Crow's mobility in the late 18th and early 19th centuries. Prior to the horse, dogs were used to drag travois loaded with goods, but this limited movement. With the horse, the Crow truly became a nomadic people. They could now make annual summer excursions eastward to the Hidatsa villages on the Missouri to trade. They would bring dried meat, animal hides, leather leggings and shirts, obsidian (for making knives) and horses, exchanging them for guns and ammunition, fresh and dried corn, pottery vessels, pipestone, pumpkins, iron kettles, beans, squash and tobacco from the riverine culture.
The arrival of the horse throughout the Great Plains also led to what was considered a highly honorable custom—the theft of horses from one's enemies. The Crow, Blackfoot and Lakota were all known as experts in this act of stealth and bravery, and many Crow families boasted possession of more than 100 horses. "Acquiring horses from an adversary became the impetus for a system of acquiring social and political prestige," notes Frey in
The World of the Crow Indians: As Driftwood Lodges
. "Known as 'counting coup,' the system involved the successful public challenging of an enemy. Four types of coup were generally recognized: touching a live opponent (without harming them), taking an enemy's weapon during face-to-face combat (but not killing them), securing a picketed horses from an opponent's camp, and leading a horse raid against an adversary's camp."
Social Organization & Character
The Crow are a matrilineal society. Women could leave husbands if mistreated or neglected, and they ran the households. Ownership of goods passes through the woman's side of the family, as does clan membership--social subgroups that all Crows were born into. However, Robert H. Lowie, in
The Crow Indians
, noted, "Sacred objects and ceremonial privileges were often bequeathed to the eldest son but succession was irregular, not necessarily following either the paternal or the maternal line. Historically, clan members were forbidden to marry, which prevented inherited illnesses. Leadership among the males was not passed down by heredity. Rather, individual male leaders arose by merit and deeds that benefitted their band. As the Crow acquired wealth in the early 1800s from expanded trade in beaver and buffalo pelts, the most successful Crow men began to take multiple wives. The families traveled and lived with other families grouped together by clans."
Frederick E. Hoxie, in
Parading Through History
, provides a beautiful and apt metaphor for this social grouping.  "The Crow term for clan, ashammaleaxia, translates as 'driftwood lodges,' referring to the way logs intertwine and bundle together along the rivers of the northern plains. One's siblings and maternal relations were conceived of as a group that could be called upon for economic aid, political support and social endorsement." While placed into a clan by birth, people had the right to change affiliation. In addition, the Crow also often adopted other Crow children and brought captured women and children from other tribes into their families. Family structure was essential to the Crow. And, as Lowie noted in
The Crow Indians
, "No worse insult could be hurled at a Crow than to say, 'You are without relatives'; it meant that he was a person of no account."
One unidentified Scotsman once told Lewis Henry Morgan in his book
The Indian Journals, 1859-1862
, that "in their domestic relations, the Crow are our superiors. They are kind, respectful, obliging, sociable, and generous, and live together in harmony." But the writer also adds that "the men are allowed to beat their wives…."
Relations with the U.S. Military
While their motives are uncertain—perhaps a shrewd understanding of the immense power of the United States' military strength, or a desire to establish and maintain trade with the Americans—the Crow chose never to come into open conflict with United States' forces. There were isolated clashes with settlers and traders but the Crow avoided overt hostilities against the U.S. military. In 1825, under the leadership of Chief Long Hair, they signed their first Treaty of Friendship with the U.S. government, followed by their participation in the 1851 Laramie Treaty, at which they agreed to set territorial boundaries for the first time in exchange for government benefits—which never materialized. Despite this failure, they remained loyal to U.S. forces, and in 1868, they met with U.S. representatives to discuss a treaty that would reduce their land holdings from 38 million acres to 8 million acres. Though Crow leader Blackfoot shouted at U.S. Commissioner Nathaniel Taylor, "We are not slaves, we are not dogs!" the Crow ultimately signed the agreement, believing it was the best deal they could achieve to secure their future.
Many Crows, as well as lesser numbers of Shoshone and Arikara, chose to serve as scouts and soldiers for the U.S. Army in their campaigns against the Sioux, Cheyenne, Arapaho and other "hostile" tribes. By 1876, the Lakota had essentially taken control of the Crow's eastern territories, and were engaged in all-out war against the United States. Seeing an opportunity to deal a mortal blow against their foes, many Crow scouts joined forces with General Crook and his subordinates, including Lieutenant Colonel George Armstrong Custer, in a campaign in June 1876 against forces led by Sitting Bull, Crazy Horse, Lame White Man and other Lakota and Cheyenne leaders. Some 150 Crow were part of the force under Crook routed by Crazy Horse at the Battle of the Rosebud on June 17, while other Crows teamed up with Custer for his foray into the valley of the Little Bighorn on June 25, at a place known among Indians as Greasy Grass.
The Crow scouts—including White Swan, Half Yellow Face, Hairy Moccasin, White Man Runs Him, Goes Ahead and Curly--seeing the size of the enemy camp spread out for miles along the banks of the Little Big Horn, urged Custer to avoid an engagement or wait for reinforcements, but to no avail. In fact, Custer split his force into three units and sent two off in opposing directions. Some of the scouts refused to accompany him in his charge down into the valley, while others did, and died alongside the 200 members of Custer's command and their impetuous leader that day.  But history records that the American forces eventually wore down the Lakota and other opposing tribes in the end and claimed victory. The "reward" the Crow received for their steadfast support through this and all the previous decades? Life on a reservation.
By the winter of 1883, with the influx of white settlers and miners, the booming buffalo hide industry—aided by the recent arrival of the Northern Pacific Railroad--and increased hunting done by the Crow themselves in the lucrative hide market, game was almost non-existent in the vast Yellowstone Valley. The Crow there began to starve. The federal government determined that if the tribe was to survive at all, they would need to be gathered to a central spot to receive rations, housing and other aid. In 1884, an administrative center for the Crow was established on the Little Bighorn, ironically just a few miles from the site of the famous battle. Crow Agency, as it was called, became the locus for tribal affairs, and the long, slow and demoralizing transformation from a free-roaming people to farmers and ranchers would begin.
In
Pretty Shield
, the book's title character notes, "When the buffalo went away the hearts of my people fell to the ground, and they could not lift them up again. After this nothing happened. There was little singing anywhere….We believed for a long time that the buffalo would come again to us, but they did not. We grew hungry and sick and afraid, all in one….We began to stay in one place, and to grow lazy and sicker all the time. Our men fought hard against our enemies…but now, with everything else going wrong, we began to be whipped by weak foolishness. Our men, our leaders began to drink the white man's whiskey, letting it do their thinking."
Helping the Crow make this extremely difficult transition were a handful of visionary leaders—among them Chief Plenty Coups. Born in 1848, he fought alongside General Crook at the Battle of the Rosebud in 1876, but he had no love of the white man. A practical man, he realized the Crow had to come to terms with the world as it was—not as they wished it had been. In the 1880s, he asked for lands on Pryor Creek for himself and his small band, to take up farming and raising livestock. He oversaw construction of a two-story log-and-frame home, complete with fine wallpaper in the upper rooms, and did quite well financially with his new endeavors. He traveled to Washington, D.C. several times to negotiate with the U.S. government.
He also urged his people to pursue education. During a vision quest at age nine, the Chickadee came to him and told him, 'Develop your body but do not neglect your mind, Plenty Coups. It is the mind that leads a man to power, not strength of body."  He became an advocate of education, seeing it as a means of ensuring the Crow's survival in the years ahead. He died at age 84 in 1932. "He crossed the slippery log and went to the Other Side Camp," noted Baptist minister and interpreter John Frost at the time. Plenty Coups left his home and land to the Crow Tribe and today it is a small unit of the Montana state parks system, with a small museum open to the public. The spring where he used to sit and think, its waters renowned for their healing properties, is now largely silted in and overgrown, but something of his spirit and the history of the place lives on.
But even with leaders like Plenty Coups, it was not a straightforward march to prosperity. In 1884 the federal government adopted laws and regulations intended to stamp out any and all "barbarous acts" it so determined, making it illegal to hold a give away, a feast, a Sun Dance or almost any form of dance, to have more than one wife, to be a medicine man, to leave the reservation without permission, to consume alcohol or to sell a horse to another Indian. More chunks of the Crow Reservation were periodically stripped away and turned over to non-Natives, including hundreds of thousands of acres of prime grazing and farmlands through the Allotment Act, which was passed by Congress in 1887. The Allotment Act was also put to work on other reservations nationwide; an accounting in the 1930s revealed some 90 million acres of land had been shifted from Indian to non-Indian ownership through the Act.
White stockmen, protected by lease arrangements of Crow lands approved by non-Indian tribal administrators, shot and killed Crow horses and cattle on Crow property, seeing them as competitors for their own livestock. Meanwhile, missionaries swarmed onto the reservation and began the process of converting the Crow, with Catholics, Baptists, Presbyterians, Seventh Day Adventists and other faiths making significant inroads, even while tuberculosis, smallpox, spinal meningitis and other diseases ravaged the weakened Indians. The 1910 U.S. Census reported only 1,740 Crow people, and the 1920 census only 1,719 people. It was the nadir of Crow life and culture.
From that low point of Crow history, the tribe has made slow but steady progress toward achieving parity with their non-Indian neighbors, yet still suffers from extraordinary social and personal ills. Alcoholism is still taking its toll, and now an epidemic of methamphetamine and other drugs have come to roost on the reservation, serving to elevate rates of auto accidents, domestic abuse, and the general malaise that lingers over the beautiful lands. Career opportunities and income still lag far below national and regional averages.
But there are beacons of hope. Tribal income is rising—largely due to the mixed blessing of immense coal reserves that are being ripped from the earth by non-Native international energy corporations. New schools have been built, and students seeking higher education can attend Little Big Horn College, launched in 1994 as a two-year associate degree institution. More Crows are securing advanced degrees than ever before, and many of these students are returning to the reservation to put their new-found skills to work. There are successful Crow farmers and ranchers who are enjoying a high quality of life.
In the arts, a handful of Crows are recognized nationally for their work in a wide variety of media and Crows are leading interesting lives in many other fields and professions, both on and off the reservation.
Every year in mid to late August, tribal members, plus Cheyennes, Lakota, Nez Pearce, Shoshone and other former allies and foes from far and wide gather together at Crow Fair. First held in 1918, the annual week-log event includes the largest tipi camp in the world (some 2,000 "lodges"), parades, an all-Indian rodeo, horse races and powwow dancing in an exuberant display that proclaims a people and culture on the rise.
Perhaps most importantly, one also senses a spiritual rebirth stirring. The peyote religion made its way north to the Crow in the early 20th century, and is still actively followed today by members of the Native American Church. The Crows also have maintained some of their secret and most sacred bodies, such as the Tobacco Society and its medicinal bundles, and associated rituals, such as the Tobacco Dance (B, cu'sua) held every spring. Men still go on vision quests to well-known sites such as the Medicine Wheel in the Bighorn Mountains and to many other private locations.  They fast. In 1941, a Sun Dance, which had not been held since 1875, was brought back to the Crow by William Big Day at a ceremony held along Pryor Creek, though in a form adopted from the Shoshone and without the traditional body piercing. Today Sun Dances, absent the flesh piercing, are a regular aspect of Crow life. The language is still widely spoken, and songs and stories are intact.
The Crow today have a complex and detailed spiritual and religious order, which could be the subject of a book unto itself. Rodney Frey, in his book
The World of the Crow: As Driftwood Lodges
, provides a succinct summary. "The Apsaalooke view a world in which all entities and all phenomena are interconnected, animal with plant with land with human with spirit. The human being is intrinsically linked to and part of the assemblage of human and spiritual personages that surrounds him or her. The world and the individual are necessarily not separate and autonomous. The focus of the individual's identity and activities is not on the self as a self-reliant entity but rather on the network of human and spiritual beings of which he or she is a part. The world does not exist in a void, meaningless and inanimate, but rather it has a dynamic and a vitality upon which all entities interdepend. It is animated with meaningful patterns and a life force. A human being does not so much assert control over the world as attend to the guidelines and transformative power offered in it."
While their reservation has been drastically reduced from its original scope, it still encompasses 2.3 million acres, and as the saying goes, they aren't making any more land. Land is perhaps the most valuable of all resources, allowing a people to develop and evolve in new and unexpected ways. These lands include the Pryor Mountains Wild Horse Range, one of three sanctuaries nationwide for wild horses managed by the federal government. Some 200 rare blue roan, grulla, sabino and duns—some with stripes—roam this reserve. In their veins run some of the oldest and unique bloodlines of any horses on the planet, harking back to old, endangered but still powerful and vital strains of equines. Proud, beautiful and independent, they are a fitting metaphor of the Crow people themselves.
The 7,000 or so Crows today have been through a grinding sequence of ordeals but have, almost miraculously, come out the other end. Ingenious, creative, accommodating, cunning, possessed of stamina and determined to an extraordinary degree, their place on the world stage is now assured and grows brighter by the day.
1965:  Governor's Trophy, Student Division, painting/sculpture at 4th annual National American Indian Exhibition, Scottsdale, AZ; winning work
           purchased by Governor Samuel Goddard
1968:  1st place paintings at Heard Museum Guild Indian Fair & Market, Phoenix, AZ
1969:  1st place miscellaneous media and 2nd place painting oils at 8th annual National Indian Arts Exhibition, Scottsdale, AZ
1971:  Honorable mention at 10th annual National Indian Arts Exhibition, Scottsdale, AZ
1972:  1st place miscellaneous media at 11th annual National Indian Arts Exhibition, Scottsdale, AZ
1982:  Chosen as poster artist for "Night of the First Americans," John F. Kennedy Center for the Performing Arts, Washington, DC
1982:  Selected to produce hand-pulled lithograph for the Santa Fe Opera
1982:  Included in show at the Faculty Club, Stanford University
1983:  Selected for solo show at Galerie Amak, Berlin, Germany
1995:  Artists in Residence, Russian Academy of Arts, Moscow, Russia
1996:  Scholar in Residence, Roanoke College, Salem, VA
1997:  Receives honorary Doctorate of Fine Arts degree from Rocky Mountain College, Billings, MT
1998:  Artist in Residence, Roanoke College, Salem, VA
1998:  "Crazy Dog's War Party" selected as poster art for the American Indian Film Festival in San Francisco, CA
1999:  Best of Show award at Coeur d'Alene Tribal Art Show and Auction, Post Falls, ID
1999:  Guest Artist for Chief Plenty Coups Day of Honor, Pryor, MT
1999:  "Grandchild's First Dance" selected as poster art for the American Indian Film Festival in San Francisco, CA
1999:  Asked to donate and sign poster copies of "Buffalo Bull Medicine Shield" for ZooMontana, Billings, MT, and Beartooth Nature Center, Red
1999:  Guest of Honor at the American Indian Film Festival, including premiere of documentary about him, San Francisco, CA
2000:  Appointed board member to the Harvard University/Ford Foundation grant program for Native projects
2001:  Selected as participating artist in The Trail of Painted Ponies/Horse Power New Mexico project; produces painted, life-size "Crow War Pony"
2002:  Artist in Residence, Mt. San Antonio College, Walnut, CA
2002:  His painted, life-size "Crow Spirit Pony" earns top bid at Horse of Course benefit fundraiser for Billings Historic Depot project, Billings, MT
2003:  Signature Artist at 11th annual Eiteljorg Indian Market and Festival, Eiteljorg Museum of American Indians and Western Art, Indianapolis, IN
2003:  Painted, life-size buffalo, done with daughter Sunny Sky Red Horse, auctioned to benefit Nicolaysen Art Museum, Casper, WY
2005:  Artist of the Year selection by the Yellowstone Art Museum, Billings, MT
2005:  Appointed to Montana Arts Council for a five-year term
2007:  Signature Artist at the Heard Museum Guild Indian Fair & Market, Phoenix, AZ
2007:  80-minute video interview conducted by the American Indian Tribal Histories Project of the Western Heritage Center, Billings, MT
2007:  Paints a full-size Crow tipi that is auctioned for the benefit of the Carbon County Historical Society & Museum, Red Lodge, MT
2009:  Premiere of 24-minute documentary
From the Spirit: Kevin Red Star
at the American Indian Film Festival, San Francisco, CA
2010:  Receives commission from the Owensboro Regional Hospital for an original painting for their new health facility, Owensboro, KY
2010:  Receives honorary Doctorate of Fine Arts degree from the Institute of American Indian Arts, Santa Fe, NM
2013:  "Horse Shield" selected as official image of the Montana Cowboy Poetry Gathering and Western Music Rendezvous, Lewistown, MT